Ronda Rousey has revealed that she was robbed by a 2-man gang who were later tracked down by her knight in shinning armor.
The American mixed martial artist shut down her life from the spotlight after suffering a second-straight loss in UFC. She was knocked out by the incumbent UFC women's bantamweight champion Amanda Nunes within 48 seconds last December.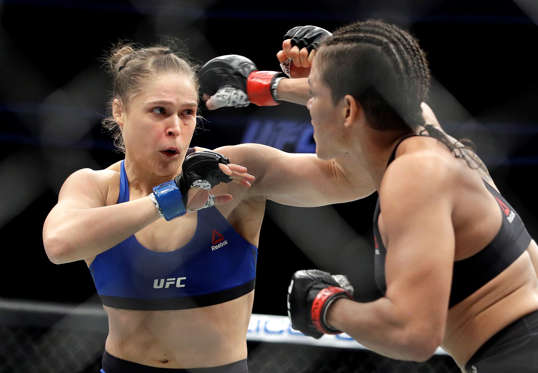 Image shows Ronda Rousey and Amanda Nunes during their UFC 207 fight in Las Vegas on Dec. 30, 2016.
Rousey made an appearance on Live with Kelly and Ryan for her first interview since the embarrassing loss.
Speaking with her hosts, the 30-year-old said she was with Travis Browne (her fiancé and fellow UFC fighter) when those "punks" attacked, just as they were about to leave their home for the airport.
The lovebirds were headed to New Zealand, where he later proposed.
Fortunately for the for the American champion and her lover boy, their attackers were caught on CCTV camera. Browne later tracked down the burglars.
Zhamila Bolat, 21, and 20-year-old Alim Young were identified by TMZ as the culprits.
"We stopped by the house right before we were going to leave for the airport and he was going to sneak away and go ask my mom for permission, but right when we got to the house, we realized we were robbed," Rousey said.
"Someone had been squatting in my house for like three days, sleeping in my bed, stole my Olympic rings, stole my guns, stole all my precious jewelry, every headphone in the house, credit cards," she added.
"We have security cameras, so we looked back at them and we saw that they were a bunch of kids with skateboards and there's a famous skate park right across the street.
"So my man's 6-7, like 260 [pounds], he like beelined it straight to the skateboard park, finds the guys right away."

Image: Ronda Rousey
Rousey continued: "He's smart enough not to [hit them], we'll get sued pretty hard, but he found the police right then and they caught them.
"They [the burglars] knew it was my house. There's no way you can't not know it's my house. What little punks."
Rousey made her mixed martial arts debut as an amateur on August 6, 2010. She defeated Hayden Munoz by submission due to an armbar in 23 seconds.