PETA UK has received huge criticisms for using bikini-clad women to serve out vegan ice-cream at the 2017 Wimbledon games.
The pro-vegan charity stationed two pretty women who dressed in red and blue '70s-styled' bikinis for ambush marketing at the event, and the decision didn't get wide acceptance.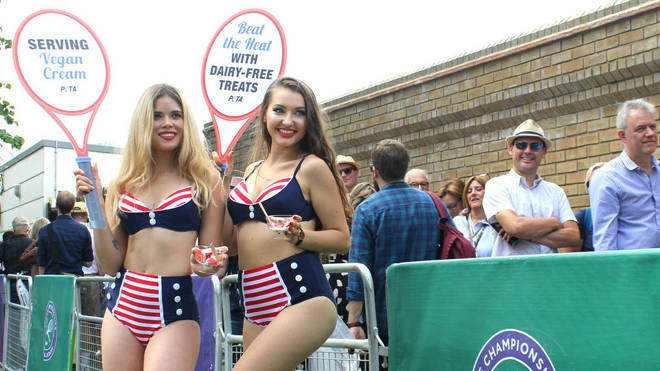 Netizens accused the animals rights charity organization of sexism after their team of "provocatively dressed" women were seen dishing non-vegan ice-cream to fans who queued up for treats in the scorching weather.
PETA (People for the Ethical Treatment of Animals) used visibly excited girls with placards which read "beat the heat with dairy-free treats" and "serving vegan cream."
Most tennis fans were grateful for the provided comfort which they didn't see as a marketing stunt, while many disgruntled social media users criticized the simple "act of kindness" as "exploitative."
Wimbledon officials said the use of scantily-clad women for marketing is a violation of its marketing guidelines. And a large number of dissatisfied persons quickly took to social media to express their opinions.
Critics flooded PETA's Twitter page with comments which read: "Please PETA am a supporter but represent us women a bit better it's the 21st century. I fail to see what benefit some seventies style sexism has for animal rights. Has this approach ever actually convinced anyone to go vegan?"
"What a ridiculous campaign …is it the 1970s and we have gone back in time?" another user wrote.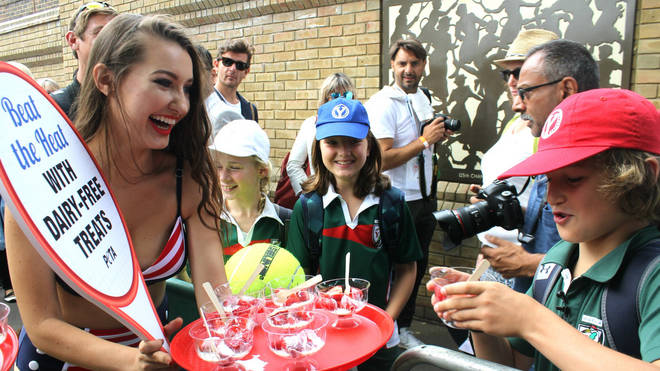 @PETAUK We should be fighting sexism, even within the animal rights movement
Serving strawberries and cream is more like a ritual during games at the All England Lawn Tennis Club, Wimbledon, and the "gross marketing strategy" has been applied by companies each year despite the strict laws.
However, PETA says the daring move wasn't aimed at breaking marketing rules, but to provide a platform where women could freely express themselves in mind and body.
The organization also claims they have the right to choose how to get people's attention.

PETA was established by Ingrid Newkirk and Alex Pacheco on 22 March, 1980 in Virginia, USA. The org's slogan reads: "Animals are not ours to eat, wear, experiment on, use for entertainment, or abuse in any other way."
Sonul Badiani-Hamment told LBC: "There's nothing sexist about wearing a bikini, it's actually sexist to tell people to cover up."