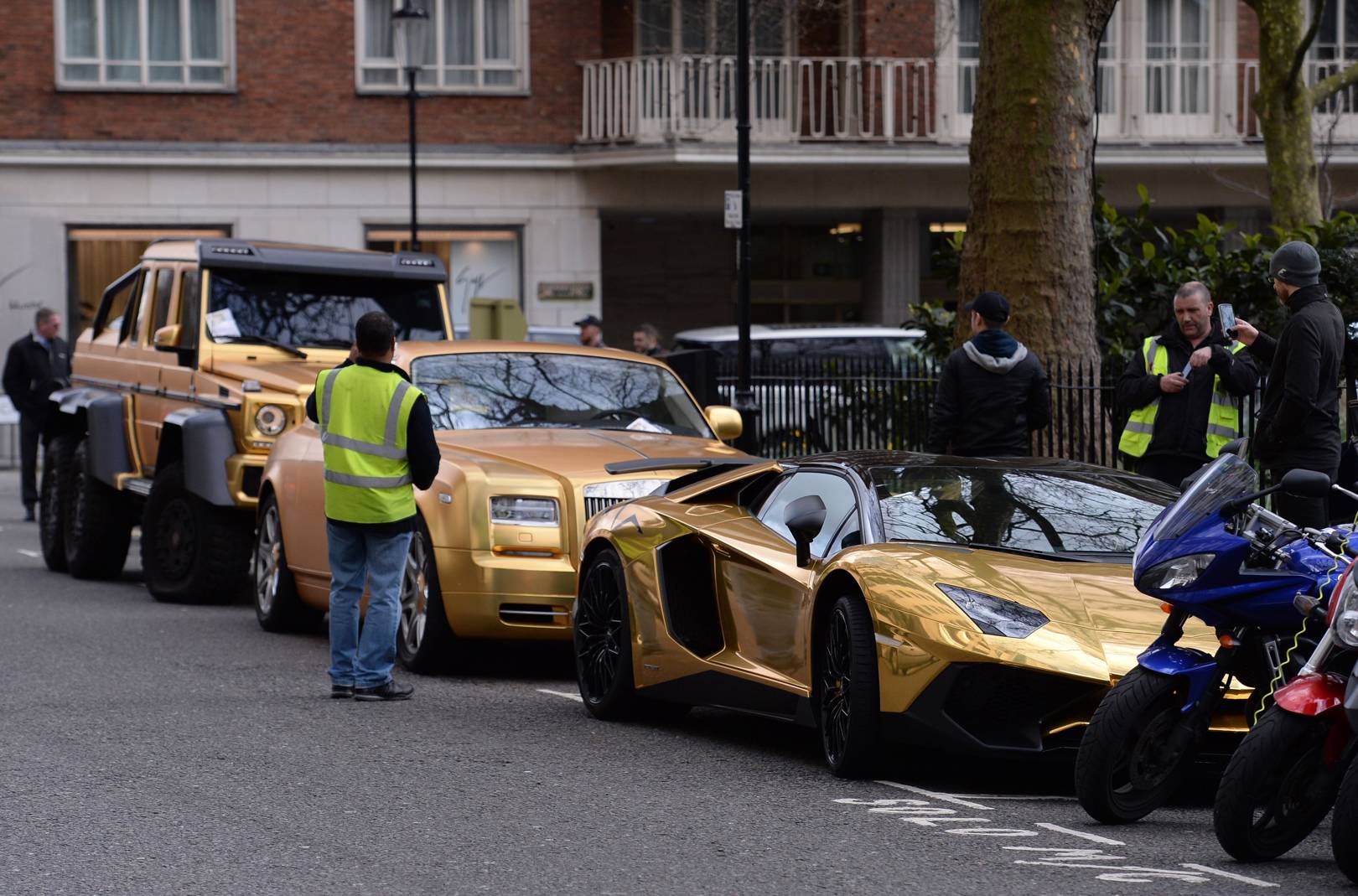 A wealthy Saudi Arabian tourist who owns fleet of cars couldn't leave the best of his collection behind as he traveled for his spring / summer vacation in London. He painstakingly transported the cars via specially adapted planes, all covered in gold vinyl.
The cars include: 6×6 Mercedes G 63 worth about £370,000, a Rolls-Royce Phantom Coupe with retail price (£313,000), and a brand new Lamborghini Aventador worth about £260,000.
Reports from London confirm the parked cars has already attracted parking tickets totaling hundreds of pounds which won't be a problem for the owner if it accumulates for years. However, authorities warned the cars will be towed away if the bills aren't cleared ASAP.
FUNNY: As if the rich Middle-Eastern hasn't created enough problems for the London authorities and  other road users, another car owner parked his mini vehicle behind the expensive fleet and tried to play along with the rave of the moment as seen in the pictures above.
Rupert Richmond-Dodd took this picture of the Ka and wrote on Facebook's Shit London page: "Trying to blend into the Knightsbridge scene isn't easy."
This happened on Wednesday in Cadogan Place in Knightsbridge where in summer 2015, complaints from residents on noise pollution from these super cars forced the Westminster council to enact laws banning drivers from playing loud music, racing or revving their engines within the zone.
The fine ranges from £100 if caught on the spot or £1,000 if convicted of the offence at a magistrate court.
Would such bills matter for a super car owner who could abandon it and fly back to Saudi Arabia without losing sleep over the property?