A new documentary film titled the 'Girl in the Box' Speaks: How I Survived Being Held Captive for 7 Years, is a true story about Colleen Stan, now 59 years old. The survivor's psychological documdrama is aimed at exposing her ordeal in the hands of a psycho couple who kidnapped her for sex.
Image shows Colleen Stan who was around 19 years old when she was kidnapped.
The nerve-wrecking story based on true events that occurred between 1977 and 1984, will sure touch your heart.
It all started about 40 years ago, exactly on May 19, 1977–a day Colleen made the worst mistake of her life. Or so fate would have it.
On that godforsaken day, Colleen was hitchhiking from Eugene, Oregon to a friend's birthday bash in California when she ran across a driver with a lady and a child in their car. She misjudged the situation probably because the couple had a child, so she joined them in their car without suspicions.
The strangers, who later turned out to be a couple – Cameron and Janice Hooker, were so nice to the then 19-year-old young and vulnerable girl.
About 1 hour into the journey, the seemingly friendly couple unveiled their true selves. Colleen's 7 years of a torturous life lived in chains, used for sex, and kept in a coffin, started at this point.
About 30 minutes after she got into their car, Cameron pulled off onto a dirt road, held a knife to her throat and threatened to kill her. He bound her, gagged her and placed a homemade wooden box over her head.
This image shows a scene from the documentary aired in the US on Saturday (10 September). 
"I thought I was going to die," the survivor told People magazine.
Earlier, Cameron and Janice had reached an agreement that Cameron could capture a slave to take Janice's place, as up until that time Cameron had been using Janice to act out his bondage fantasies. There was to be no sex with their female captive, an agreement which Stan agreed to but later failed to honor.
In order to keep the agreement of "no sex with the slave", Cameron demanded oral sex and would insert objects into her.
The Hookers made her suffer like a worthless crap in their prison-home located at Red Bluff, California. They kept her in a suspended wooden box above their love nest–a waterbed on which the couple made love the same night.
Image shows the real coffin made by Cameron and wife for Colleen Stan.
Cameron named their salve "Kay", and ordered she refer to him as "Master". She was forbidden from talking without permission.
To avoid painful punishments, "Girl in the Box" said she tried to be a good slave to the couple, a gesture which they appreciated by letting her
jog outside

, work in the yard and care for their baby.

Colleen was only let out of the box when the psycho couple had need to beat, torture or rape her together. She was made to stay locked up in chains for 23 out of 24 hours everyday.

Looking back at the hopeless and scary situation she found herself, the survivor said in her documentary: "I learned I could go anywhere in my mind.

"You just remove yourself from the real situation going on and you go somewhere else. You go somewhere pleasant, around people you love. Whatever makes you happy."

She was able to keep her sanity by thinking about her family and friends, while taking off her mind from the pains around her.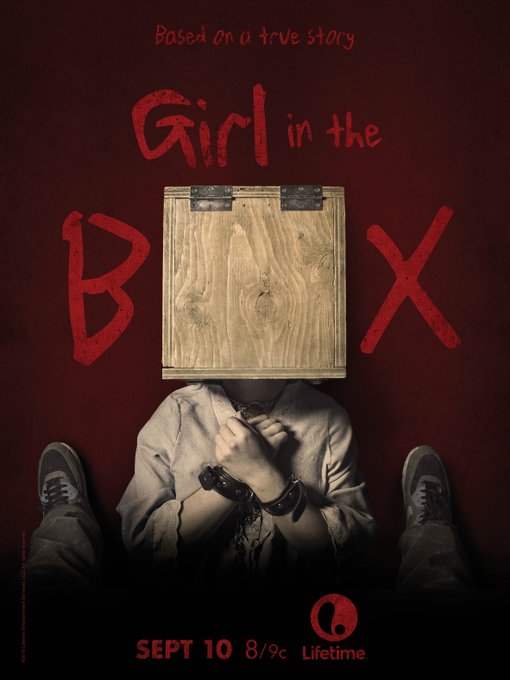 The captive said her first night in the couple's home was worse than hell. She was made to sit-up in the suspended box that looked like a crater until the following night when Cameron made her a coffin so she could
die in peace
.
According to Colleen, her captor later revealed he was a member of "The Company", a cult group which he said will hunt and kill her if she tries to escape. The couple made her sign a lifetime "Slave Agreement" from the cult group, too.
Watch the @lifetimetv movie "Girl in the Box" on 9/10 at 8pm ET. And see the real Colleen Stan on our show soon!
The slave said she was not afraid of Cameron but feared what The Company would do to her if she escaped. She revealed that her master warned her of the consequences on daily basis.
Image shows Cameron Hooker in court during his 1984 trial.
Cameron displays a head box (L) and another torture box which they used on their slave.
However, Colleen's life experienced a positive turn when Cameron started showing interest in his captive. The obsessed kidnapper proposed to her in 1984, a betrayal that his wife Janice found unimaginable.
As a payback, Janice helped the potential second wife escape from captivity, and later testified against Cameron in court when offered immunity in exchange.
Cameron was found guilty of kidnapping and sexual assault and sentenced to 104 years in prison.
Image: Colleen Stan
It has since been said that Colleen may have suffered from Stockholm syndrome – a brain disorder whereby people begin to identify with their captor due to severe stress.
Colleen Stan is currently in her fourth marriage, and raising her grandson, who turns 2 at the end of September.