Image shows Pastor Mark Burns.
"With much anticipation and excitement, I'm pleased to announce that Republican Presidential Candidate Donald J. Trump will be speaking at the only African American owned and operated national Christian television network, The Impact Network, Saturday, September 3rd, at 11am.
"Impact Network President and CEO, Bishop Wayne T. Jackson, will interview Mr. Trump at Great Faith Ministries in Detroit, Michigan.
"Mr. Trump will answer questions that are relevant to the African American community such as education (including HBCUs), unemployment, making our streets safe and creating better opportunities for all. He will then give an address to outline policies that will impact minorities and the disenfranchised in our country. 
"Citizens around the country will see, as I've have seen, the heart and compassion Mr. Trump has for all Americans, which includes minority communities whose votes have been taken for granted for far too long." – Pastor Mark Burns
Pastor Mark Burns received heavy backlash after he posted a cartoon of Hillary Clinton in blackface to his Twitter account. The evangelical pastor and Donald Trump surrogate Mark Burns then used another cartoon to blame the media for the criticisms he faced.
The infamous cartoon posted Thursday by Burns features a sullen-looking Clinton with face covered in green makeup, and the word "scandal" written on it multiple times.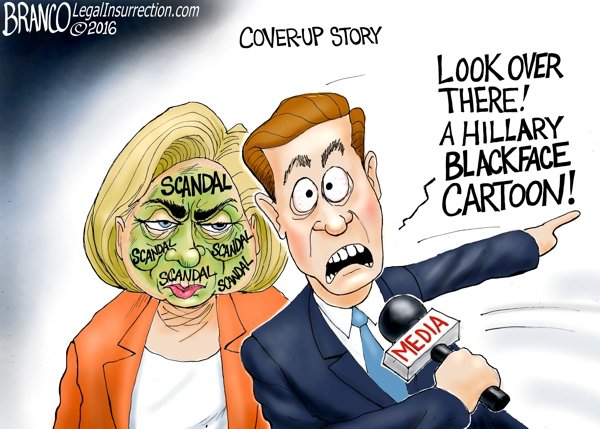 Beside the former secretary of state is a reporter holding a microphone with a "media" mic flag, pointing away from Clinton.
"Look over there!" the reporter says in the cartoon. "A Hillary blackface cartoon!"
In the post accompanying the drawing, Burns wrote, "Isn't this the TRUTH…! This is what Liberal #MSM do for @HillaryClinton," using the hashtag abbreviation for mainstream media. He then complimented the cartoonist on his "great drawing."
"The tweet is a frustration that I have as a black man here in America and how I see African-Americans in many cases — not every case but in many cases — are suffering throughout this country and to see how en masse we have been voting for the Democratic Party en masse and yet we have very little to show for it," Burn said during a phone interview on MSNBC earlier this week, explaining his original blackface tweet. "It's a vexation to me to see how the Democratic Party, and especially Hillary Clinton, what I call tap dance for the black vote, get it and then disappear for four more years."