Bastian Schweinsteiger honorably played a big role captaining Germany one last time in an emotional friendly match against Finland on Wednesday, a game which ended 2-0 in favor of the Germans. It was his final international appearance for die Mannschaft.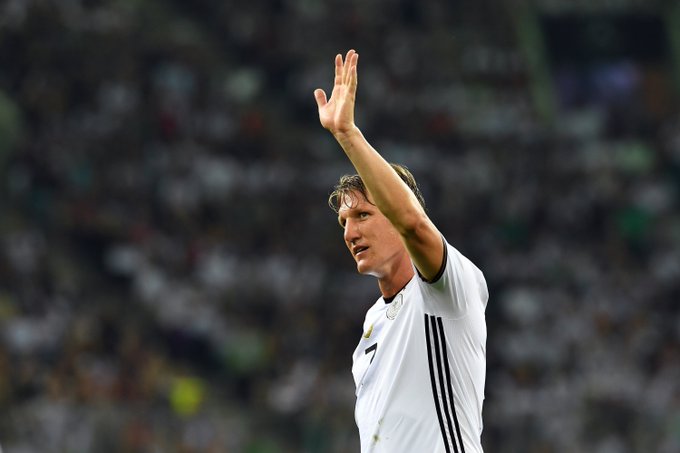 Overwhelmed by emotions, the Manchester United star let the tears trickle down his eyes for a moment after the match.
Though it was Schalke's Max Meyer and Arsenal's Mesut Ozil who scored both goals for Germany, Schweinsteiger was the celebrant for the night.
Image: Bastian Schweinsteiger
Schweinsteiger played a total 66 minutes in Moenchengladbach against Finland before he was subbed. It was his record 121st game played for Germany as well as his last.
The win against Finland was a dedication to Schweinsteiger. In truth, the player enjoyed their win more than anyone else as his teammates whisked him away for football rituals after the match.
He said: "I think you all saw how it effected me. I had just wanted to enjoy every moment, but I hadn't expected it to be so lovely."
The 32-year-old announced in August that he would be retiring in the game against Finland, bringing an end to his fruitful 12 years of selfless service to Germany.
Out of gratitude and respect, the national team coach Joachim Loew gave the star one last chance to skipper his country to victory.
Then the coach followed up the game with a hearty tribute to Schweinsteiger, per FC Bayern English: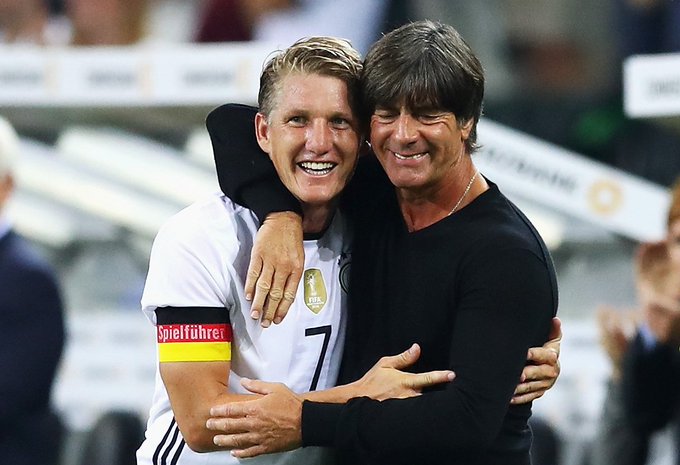 "Schweinsteiger merited such a dignified farewell from the international stage. As talented as the squad is, Germany won't find it easy to replace the player who has been the heartbeat of their team"–Bleacher Report.
German FA (DFB) president Reinhard Grindel couldn't wait for the game to start before he showered praises on Bastian, who at that tensed moment could stop himself from shedding tears of joy.
The player cried in front of a cheering crowd totaling up to 30,121.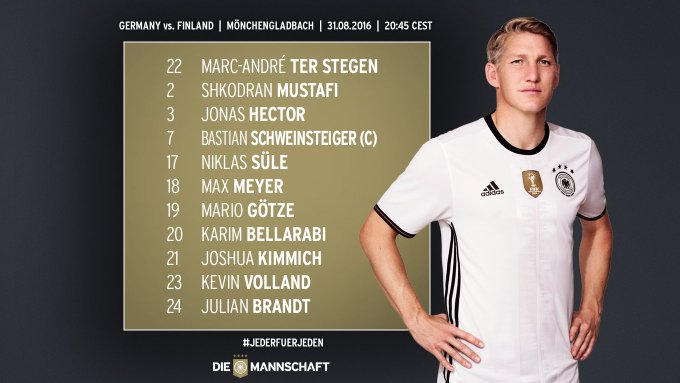 The Manchester United star was given a standing ovation, and when he received the microphone for a short speech, he said:
"[Referring to his emotions and the tears] I didn't think that would happen."
"Thank you for coming, it means a lot to me.
"It was a huge honor for me to play for Germany and I just want to say 'thank you' for everything."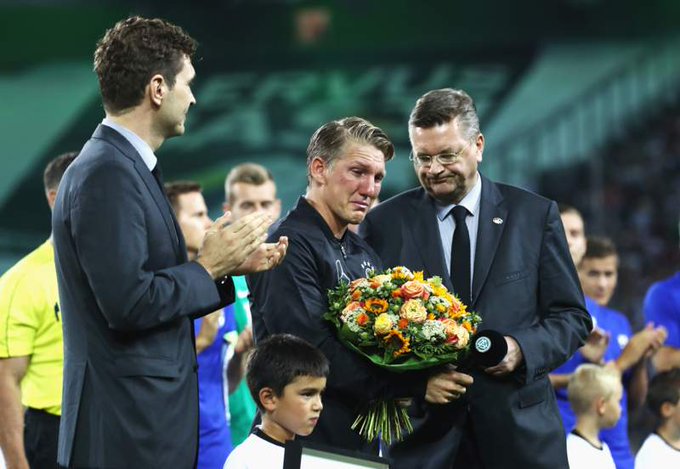 A new captain for the country is expected to be announced Thursday, and speculations are rife that it'll be none other than Manuel Neuer.